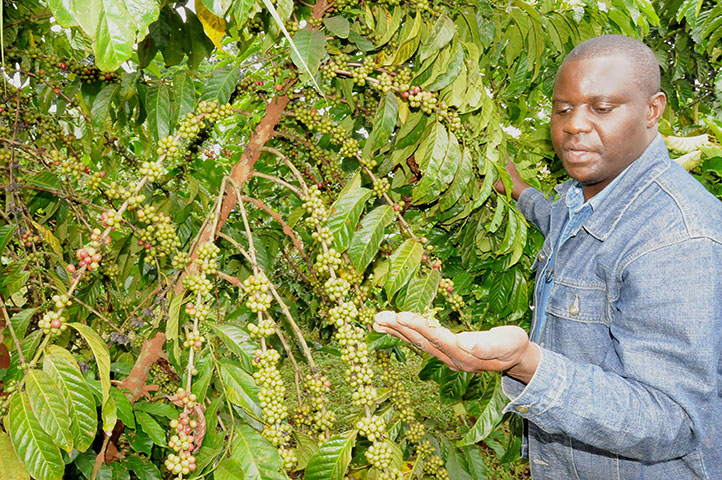 Uganda Farmers Move To Mark Coffee Produce
A section of farmers, under their umbrella body National Union of Coffee Agribusinesses and Farm Enterprises (Nucafe), are working with the European Union (EU) to try to mark coffee and relate it to its region of production as part of a bigger plan of penetrating deeper into the export market.
The initiative, Enhancing Africa Green Economy through Eco Geographical Indication for Coffee Project, is also a way of contributing to government's ambitious target of producing 20 million bags by 2020.
Joseph Nkandu, the executive director of Nucafe, explained that although coffee is the country's third most important foreign exchange earner after tourism and workers' remittances, it is high time Ugandan coffee is identified by region of production.
"The geographical indication means increased competitiveness of Uganda's coffee on the international market; this gives Uganda the opportunity to have ownership; empowering communities to take responsibility for the environment where the coffee if produced," he said.
According to Nkandu, farmers will now have three certifications, including fair trade, organic coffee, and geographical indications.
"With funding to a tune of Shs 5.8bn from EU, we are going to develop it in a way that we characterize the coffees coming from that place, develop instruments that will see farmers add value," he said.
The Shs 5.8bn will be utilized in the three districts of Kasese (Rwenzori region), Kabarole and Bunyangabu.
Nkandu believes farmers' incomes will double and production will increase by at least 35 per cent. He said: "We are lucky government passed the Geographical Indication Act 2013. So, now we have institutions like Uganda Registration Services Bureau (URSB) which will patent coffee."
Michael Kabafusa Werikhe, the state minister for Trade, said coffee consumers will be able to know where the coffee comes from.
"People will know that it is from Rwenzori, Mt Elgon. In the past, it used to be Uganda coffee but we want to go a step further and know where exactly it comes from. This will benefit our clients in the international market," he said.
Pavlos Evangelidis, the EU's Head of Section, Green Economy, said EU supported the programme under the Switch Africa Green project, a global programme with an African component.
"The project is to promote sustainable production and consumption patterns…
We are looking at maximizing investments at all levels of the value chain."
From: The Observer