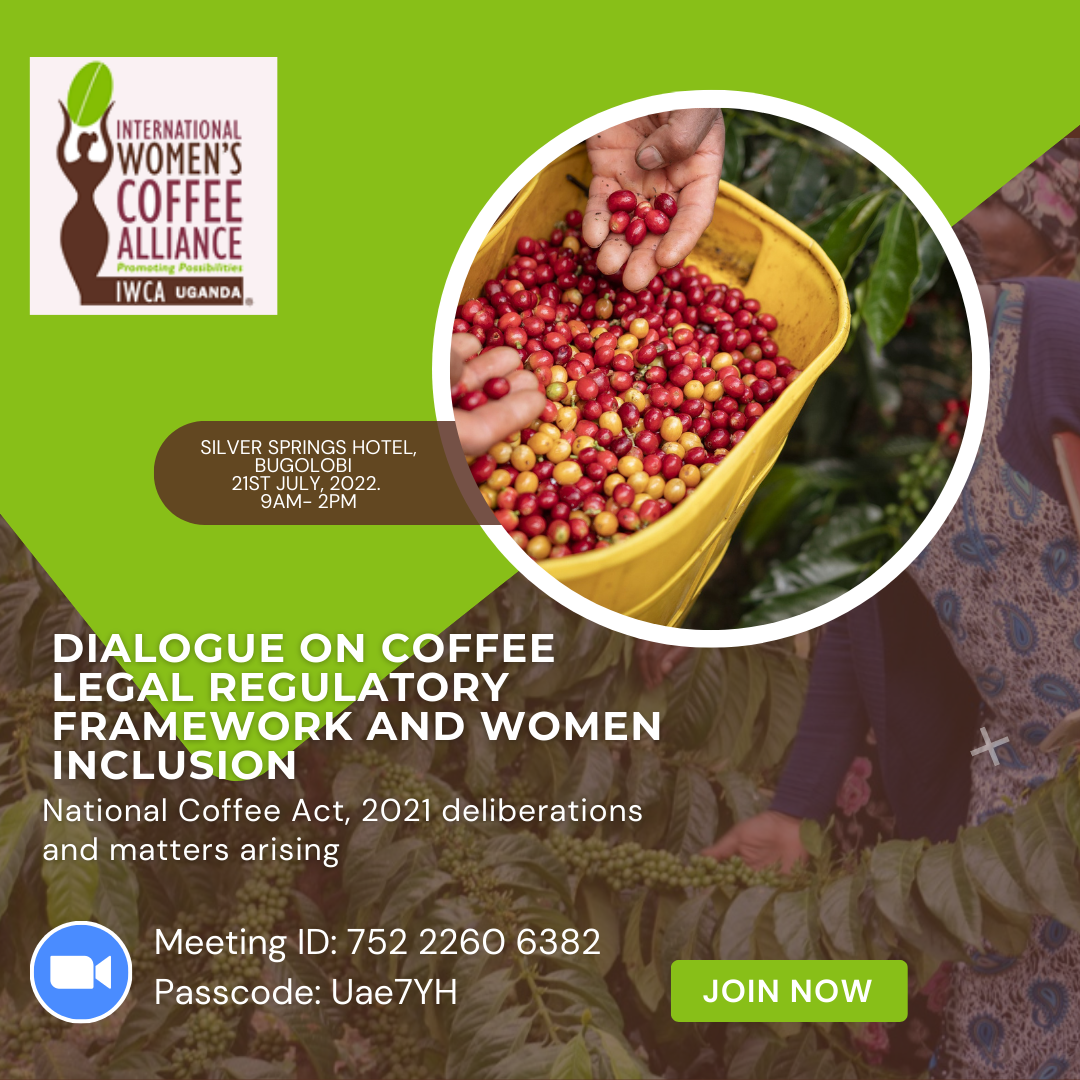 Highlights from our Legal Framework and Women Inclusion Workshop
21st July 2021.

By Eddie Ssemakula

International Women in Coffee Association (IWCA) and her partners in the coffee sector today engaged in how the legal and regulatory sector framework needed to be leveraged for the sake of women inclusion. Summary Highlights of proceedings below captured responses from the event.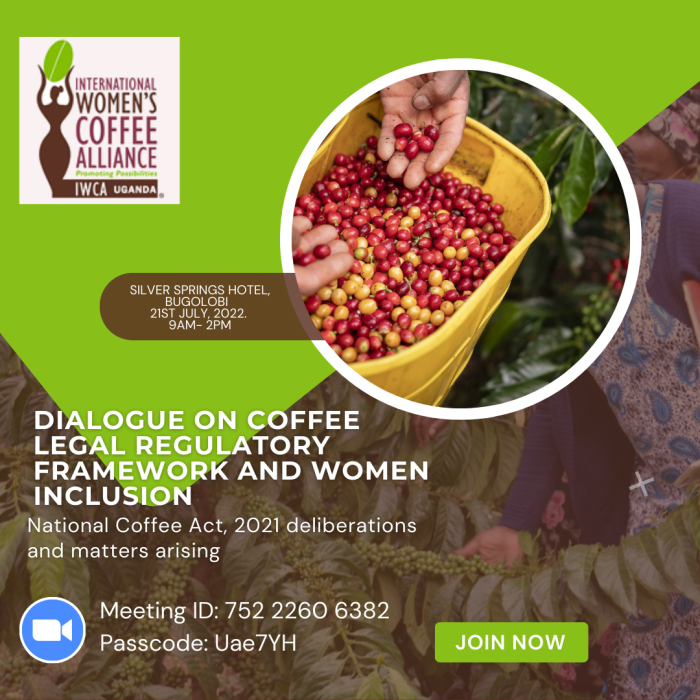 Participants generally emphasized how Uganda needs to remember international charters it is signatory to (along with local legal provisions), if the bid for women inclusion in coffee is going to take effect, for starters. They also noted that sustainable development goals emphasizing holistic inclusion of women by 2030 (e.g. SDG Agenda 5) were also key in ensuring women inclusion.
"If we are going to empower women" one participant noted, "…the National Planning Authority for example, needs to have the numbers speaking for women", emphasizing the need for data and evidence in advancing women's inclusion in the sector.
Sustainable agriculture, ending hunger were also goals emphasized as the kind that cannot exclude women. "These kind summon the involvement of women towards better inclusion." another participant remarked.
It was also identified how Uganda's Vision 2040 (specifically NDP3) for example allowed for women inclusion. The question in the room was whether women had taken any effort to review such backing evidence for their push.
Female headed households identified as the most vulnerable also justified the need for more fervent advocacy if the woman is to compete favorably in the coffee sector. Panelists also noted how SDG 2 must be linked to gender and coffee if women's inclusion were to become a reality.
Other clauses appealed to included Section 39 of the Land Act Land, amended in 2004, in the case of vulnerable women. "Some of these provisions take care of equitable interest, for example, marginalized women in vulnerable conditions," one panelist noted.
Feedback from participants came from across sector players including Equal Opportunities Commission, Uganda Coffe Development Authority, various disability groups, among others.

The need for arguments of women inclusion informed by equitable budgets was emphasized as a financial basis for making an effective case. If it is not budgeted for, it didn't matter. Participants seemed to respond to the day's legal framework presentation. Similarly, it was also noted, for example, that the Morgages Act of 2009 addressed women who often want to access capital and loans yet have no collateral for their coffee business.
Concerns surrounding legibility arose too,"If the procedure for incorporating a company is frustrating for elite women, imagine what it would be for the rural woman seeking to access official services for her coffee enterprise for example ?" one panelist noted.
Other issues that came to the forefront during the workshop included; the likelihood of women without financial muscle getting elbowed out of the coffee auctioning system. the information gap that makes women in the sector likely to violate the information gap. The need to involve rural women in legal framework and women dialogues. On the later, one participant promised to mobilize groups for IWCA in the greater Masaka region.
The need to differentiate the various needs of women in the sector was also a key point. It was stated for example that the needs of women at the farm differed from the needs of women who owned coffee farms.
Harriet Ntege, a farmer from Busoga also highlighted the necessity of collaborating with other industries ,specifically tourism, in a bid to encourage community tourism. Laura Walusimbi, corporate communications manager at UCDA, also noted the role of mentoring sector women as key in the legal framework education journey.
Land ownership as a bottleneck to women inclusion in the sector, due to patriarchal structures prevalent in Uganda was also a key discussion point in the workshop. The need for financial literacy at every point of the value chain was mentioned as a key point in the strategy, "lest every effort fails" as one panelist emphasized.
Testimonials from interventions of other sector players like USAID demonstrated the approach of engaging the entire coffee value chain, with business advisory firms helping women access finance, offering capacity building support for associations, input suppliers, and funding sensitization activities.

The meeting was key in tracking stakeholder views towards opportunities in the legal framework that could be leveraged for more women inclusion in the coffee sector, a much needed direction in the Uganda coffee sector at the moment.