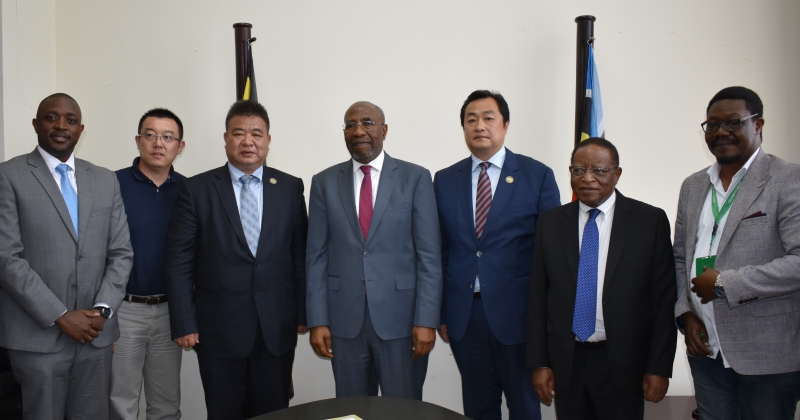 Uganda Hosts, Signs Agreement With China's Yunnan International Coffee Exchange
Uganda Coffee Development Authority (UCDA) in collaboration with the Embassy of the Republic of Uganda in Beijing, China hosted officials from Yunnan International Coffee Exchange (YCE) in Kampala, Uganda, from 15 to 21 September 2019.
The delegation held meetings with UCDA Management, the Ministry of Agriculture, Animal Industry and Fisheries, and was led in visits to coffee sector actors in the different coffee value chains.
The visit culminated in the signing of an agreement between the Government of Uganda through UCDA and YCE. Signed by the Quality and Regulatory Director, Edmund Kananura Kyerere on behalf of the Uganda Coffee Development Authority and the General Manager YCE, Yang Shu, the agreement will enhance the exportation of Uganda's coffee to China.
Yunnan International Coffee Exchange is a state-owned company, and the epicenter of Yunnan Coffee. It was established in 2014 to, inter alia enhance and lead innovations in the value and sustainability of the Chinese coffee sector and supply chain and become the direct link between the Yunnan coffee community and the global coffee industry. The cooperation between YCE and UCDA helps to promote the visibility of Uganda as a leading coffee producer and exporter. It also helps to create awareness about Uganda's coffee in China and, ultimately increase Uganda's coffee exports to China.
To better appreciate the processes in Uganda's coffee export promotion, the YCE Delegation prioritized visits to the UCDA laboratory in Lugogo where coffee is analyzed before export. The Delegation also visited selected Coffee Cooperatives and Export Processing Units in Eastern and Western Uganda. It also had the opportunity to network with leading coffee exporters.