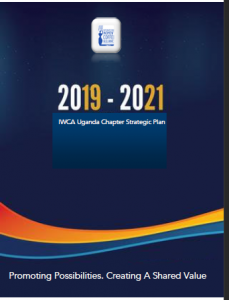 IWCA Uganda Chapter Unveils Three-Year Strategic Plan, 2019-2021
IWCA Uganda Chapter finalized its three-year Strategic Plan, 2019-2021. It sets out the strategic interventions that will shape its operations over the next three years. It also highlights the likely challenges and the appropriate strategic actions and the resource mobilization agenda.
It draws on the experience of the IWCA Uganda Chapter in advocating and lobbying for women economic and social empowerment in Uganda. The strategic priorities in the Plan have been informed by consultative process, with input from key actors from the Uganda Coffee Development Authority, National Union of Coffee Agribusinesses and Farm Enterprises , the Uganda Coffee Federation, Agro-Inputs Dealers, IWCA Uganda Chapter Board, Researchers and practitioners. Five core strategic objectives will guide the effective implementation of the Chapter activities over the next three-year period:
To build and strengthen IWCA Uganda Chapter's institutional capacity;
To increase market access and market linkages for members to sell their coffee;
To lobby/advocate for the equitable inclusion of women & their households in coffee value chains;
To enhance socio-economic empowerment programs for women in coffee and their households for sustainable livelihoods; and
To strengthen solicitation and acquisition, of resources for sustainable implementation of the IWCA Uganda Chapter Strategic Plan.
The development of this Strategic Plan was made possible with generous support from the American people through USAID Uganda Feed the Future Enabling Environment for Agriculture Activity.