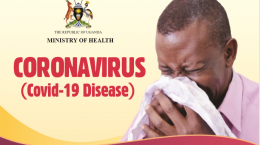 IWCA Uganda Chapter Members Donate To Fight Against COVID-19
This story is an excerpt from the article, "Coffee sector donates coffee, food, vehicles and medical equipment to fight COVID-19" published by the Uganda Coffee Development Authority. To read the full story, visit https://ugandacoffee.go.ug/coffee-sector-donates-coffee-food-vehicles-and-medical-equipment-fight-covid-19
–
Following the outbreak of COVID-19 pandemic, H.E. the President of Uganda instituted a National Taskforce team headed by Rt Hon Prime Minister to oversee all the donations to boost government's efforts in combating COVID-19 in the country. In the spirit of standing together with the government, the Uganda Coffee Development Authority (UCDA) mobilized the stakeholders in the coffee industry to donate food and other essential items for the vulnerable poor who survive on daily earnings. Given the lockdown at the time, they were unable to earn a living and are likely to go without food.
On 1 May 2020, the key stakeholders in the coffee industry, led by Hon. Vincent Sempijja, the Minister of Agriculture, Animal Industry and Fisheries handed over a number of items to the head of the task force, Hon. Mary Karooro Okurut. The items included a total of UGX 142,800,000 in cash and two brand new 4-WD pickup vehicles.
UCDA contributed 2,000 packs of ground Uganda coffee for the frontline staff in the fight against the pandemic. Earlier, Kaweri Coffee Plantation, the largest coffee plantation in Uganda owned by the Neuman Gruppe, delivered 5 tons of beans and 7 tons of maize to the Office of the Resident District Commissioner in Mubende District, Ankole Coffee Producers Co-op Union Ltd (ACPCU) located in Sheema district in South West Uganda donated UGX 15 million to the national taskforce, and UGX 12 million to the district taskforces for fuel to take women in labour to hospital in the districts of Shema, Bushenyi, Mitooma, Rubirizi, Rwampara, Buhweju, Ibanda, kiruhura, Mbarara, Ntungamo and Kazo, where the cooperative buys coffee.
The IWCA Uganda Chapter corporate members contributing to the fight against the COVID-19 pandemic included Zigoti Coffee Works, Coffee World Limited, and UCDA, among others.