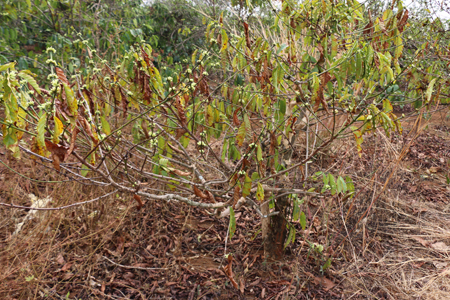 Coffee Farmer Groups Benefit From IWCA Advocacy Training In Mityana.
On 13 September 2019, the IWCA Uganda Chapter held an advocacy training, engaging Duty Bearers and enabling them to directly interface with the leadership of different farmer groups. Duty Bearers include district leadership and the UCDA. The training was attended by over 40 participants representing different farmer groups. Among these was Mityana Women and Youth Coffee Association, a vibrant farmer group in Mityana District, Central Uganda.
The training prioritized the issues in those communities that affect the women most, hindering their effective and gainful participation in the different phases of the coffee value chain. Mityana Women and Youth Coffee Association prioritized two issues, including limited access to reliable markets and extensive drought.
The key outcome of the training was the registered commitment from the Duty Bearers to further engage with the farmers to address the impediments as highlighted by the farmers. The Duty Bearers will meet once every quarter while the Farmer Groups will meet at least once every month. The training was also an opportunity to discuss and agree on an action plan which commits Duty Bearers to ensure that they address the challenges. Additionally, there will be a planned follow-on meeting between officials at the district level, UCDA and the National Agricultural Advisory Services (NAADS) in the last Wednesday of November 2019, a date to be confirmed.
As part of its lobby and advocacy activities, the IWCA Uganda Chapter has been building the capacity of small-holder coffee farmers in five selected coffee-growing districts of Mityana, Luwero, Sironko and Ibanda. These were particularly selected because of the types of coffee grown there. Sironko and Kapchorwa grow Arabica coffee, Luwero and Mityana grow Robusta, while Ibanda grows both Arabica and Robusta coffee varieties. The focus on lobby and advocacy on issues that affect gainful involvement in different phases of the coffee value chains.
These trained farmers are affiliate members of the IWCA Uganda Chapter, through the corporate membership of Zigoti Coffee Works. The district group name is Mityana women and Youth Coffee Association. A planned follow-on training will be open to all coffee farmers and will be opportunity to address broader issues, including genuine inputs agricultural inputs, post-harvest handling and coffee storage best practices.
As part of the next steps, the IWCA Uganda Chapter will ensure regular follow up and continued mentorship to the women farmers to strengthen their capacity for self-advocacy on inclusive and gainful involvement in the coffee value chains.